Nanoil – the brand offering the highest quality natural products, based on the properties of specially selected vegetable oils. The perfect combination of external elegance with inner effectiveness, and all of this for a reasonable price.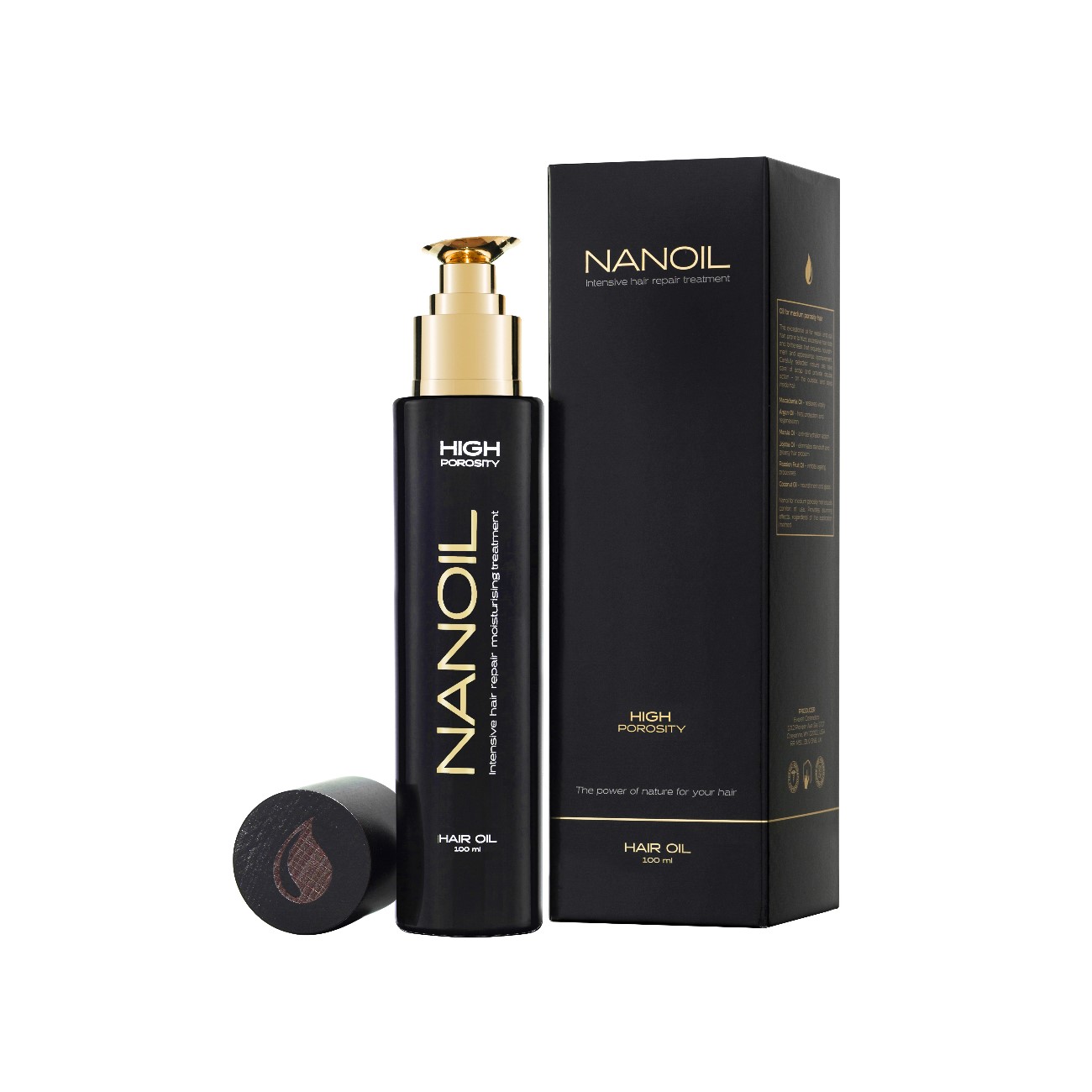 Nanoil hair oil is three propositions:
Nanoil for low porosity hair,
Nanoil for medium porosity hair,
Nanoil for high porosity hair.
Properties/composition
Nanoil hair oil regardless the version is an innovative composition of natural oils. It takes what's best from nature and blends it for simple yet effective hair care. Every version's composition matches hair porosity, structure, needs and absorption ability. The more damaged hair, the more needed help from hair oils rich in unsaturated fatty acids. Nanoil hair oil is the power of the best oils locked in feather-light oil.
Due to carefully selected active substances, Nanoil indicates double action on hair and scalp. There are available three versions and each with different properties. Nonetheless, the most important is that Nanoil hair oil in every case provides protection, restores health and beautifies hair – no exceptions. The only difference is that given oil focuses on other properties depending on the hair porosity.
Nanoil for medium porosity hair is the oil with strengthening action. It most of all prevents frizzy hair, which due to humidity is prone to curls and mattifying. It moisturizes and nourishes hair bulbs, so inhibits excess hair loss. Moreover, it ensures softness, gloss, and elasticity.
Nanoil for low porosity hair is the oil that speeds up drying time and provides heat protection. Use it for styling, and to facilitate combing, its help is remarkable to make hair more susceptible to curl. It prevents dehydration and water loss caused by the sun. Also, regulates scalp pH.
Nanoil for high porosity hair is the oil with most intense action because it regenerates keratin structure of hair, repairs damages and strengthens hair from the very roots. It perfectly hydrates because it strengthens water-lipid layer and regulates functions in the scalp so speeds up hair growth.
What components can be found in Nanoil hair oil? Most of all, natural oils (e.g. argan oil and passion fruit oil are characteristic for every version), vitamins and additional enhancing substances like silk or keratin. The composition of two versions contains six oils while Nanoil for low porosity hair has nine of them due to the necessity of introducing few kinds of cosmetic butter; perfect for hair with a tight structure. Nanoil hair oils are free from silicone and paraben so entirely natural.
Formula/packaging
The thing you won't find in most oil based cosmetics for hair is a feather-light formula that Nanoil hair oil has in every version. The cosmetic absorbs entirely in hair and scalp moments after application. There is no greasiness or weighing down. For this reason, Nanoil hair oil is suitable for even fine hair. Besides the formula with excellent texture, Nanoil hair oil is also highly efficient. There is no need for taking too much of it to cover hair on the length and have enough for the scalp. After each use, it coats hair with a subtle and fresh aroma that won't disappear the moment later. Nanoil hair oil fragrance can be sensed hours after the application.
This perfect formula was locked in the black bottle. There are no fancy shapes or colors, so Nanoil hair oil is an exceptionally beautiful cosmetic. The mix of black and mirror gold is spot-on. What is more, the cap made with natural, dark wood with a carved drop. It all makes Nanoil a stylish hair oil. In the meantime, it is practical and convenient in use because under the cap was placed wide pump designed to match the shape of your hands and fingers perfectly.
Use/effects
Regardless the version, Nanoil hair oil can be used on the entire hair length and the scalp. You can apply it on both areas or just use it as a scalp massage oil or to protect the hair ends alone, etc. That is the only product to leave discretion in the manner of application. Nanoil hair oil is suitable for hair oil treatment methods same as for the use of natural oils – on dry or wet hair, briefly or for a longer time before hair wash. Thanks to Nanoil hair oil, overnight hair oil treatment can be pleasant and comfortable. If you have some more time at your hands, you can perform hot oil treatment for more intense effect. Nanoil hair oil is great as a light oil for styling, for use before drying for heat protection, to provide luminous gloss and ensure long lasting effects. The great advantage is a possibility of use Nanoil hair oil during the day to discipline unruly strands. The possibilities are countless.
Recommended due to:
formula based on natural vegetable oils
composition rich in natural and safe ingredients
light-weight formula preventing weighting down and greasy roots
pleasing and long-lasting scent
ingredients perfectly matching hair porosity
numerous possible methods of application depending on hair needs
elegant bottle
convenient applicator with innovative shape
perfectly absorbed by hair and scalp
composition entirely free of silicone and paraben